sumber :-
---
Mesyuarat Dengan 50 Penduduk Kampung Teluk Kumbar
Posted: 15 Dec 2010 08:57 PM PST
Usaha Meroboh Rumah Kampung Teluk Kumbar Oleh Pemilik Tanah KL Metro Land Development Sdn Bhd Menimbulkan Soalan Samada Ia Adalah Syarikat Pemaju Yang Tulin Dan Bukannya Bermotif Lain Untuk Sengaja Susahkan Rakyat Dan Kerajaan Negeri Pulau Pinang!
Kerajaan negeri memandang serius dan berat usaha pemilik tanah Kampung Teluk Kumbar, KL Metro Land Development Sdn Bhd berdegil untuk memaksa pindah penduduk tanpa meneruskan perbincangan dengan penduduk dalam suasana elok tanpa ancaman dan ugutan. Pada masa yang sama, kerajaan negeri hairan mengapa syarikat tersebut bertindak begitu berani dengan tidak mahu mengambilkira pandangan kerajaan negeri.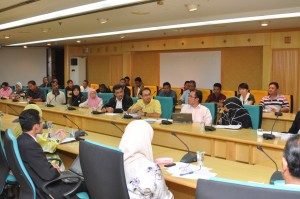 Sekiranya syarikat ini mahu teruskan pembangunan, maka ia harus dapat pelan kebenaran merancang dan adalah jelas bahawa tidak ada sebarang pelan kebenaran merancang diluluskan oleh MPPP. Syarikat itu telah mengumumkan hendak bina hotel dan telah buat permohonan kepada MPPP pada tahun lepas. Tidak ada sebarang kelulusan diberikan oleh MPPP. Tidakkah syarikat ini bimbang bahawa permohonan mereka berkemungkinan tidak akan diluluskan sekiranya ia terus berdegil tidak pedulikan kerajaan negeri?
Sungguhpun pemilik tanah telah perolehi perintah mahkamah, ia mesti mendapat restu MPPP sekiranya mereka mahu jalankan tindakan roboh rumah. MPPP pun telah sampaikan kepada syarikat tersebut bahawa selagi pelan kebenaran merancang tidak diluluskan maka syarikat tidak boleh ambil sebarang tindakan roboh.
Usaha meroboh rumah Kampung Teluk Kumbar oleh pemilik tanah KL Metro Land Development Sdn Bhd menimbulkan soalan samada ia adalah syarikat pemaju yang tulin dan bukannya bermotif lain untuk sengaja susahkan rakyat dan kerajaan negeri Pulau Pinang. Akan tetapi, syarikat pemaju masih beriak-riak nak teruskan tindakan dan menakutkan penduduk akan datang minggu depan. Adakah ini tingkah-laku seorang peniaga yang waras?
Biasanya pemaju bukan sahaja tidak mahu menyusahkan malah menyakitkan hati kerajaan negeri pun tidak. Akan tetapi syarikat pemaju ini bertindak begitu berani sehingga menimbulkan tanda-tanya di sebalik niat dia berniaga atau motif lain kerana penuh dengan Datuk-datuk di belakang syarikat ini memandangkan bahawa ia bukannya syarikat Pulau Pinang tetapi daripada KL. Kerajaan negeri telah menghalang pemaju daripada jalankan tindakan roboh sebelum ini, dan selagi pelan kebenaran merancang tidak diluluskan oleh MPPP, akan terus menghalang daripadanya menjalankan tindakan roboh.
Kerajaan negeri bersedia menunggu Pengerusi KL Metro Land Development Sdn Bhd, Dato' Haji Mat Hassan Esa untuk datang berjumpa dan membincangkan perkara ini dengan kerajaan negeri.
Ucapan Ketua Menteri Pulau Pinang Lim Guan Eng Dalam Mesyuarat Dengan 50 Penduduk Kampung Teluk Kumbar Di Komtar, George Town Pada 9 Malam 15 Disember 2010.
investPenang to Focus on SME Development & Intensify Investment Promotion Efforts
Posted: 15 Dec 2010 08:49 PM PST
Penang: Chief Minister Lim Guan Eng chaired the Annual General Meeting of the Board of Directors of investPenang this morning and announced that for 2011, more emphasis will be given on the development and competitiveness enhancement of local small & medium enterprises (SMEs).
The SME Market Advisory, Resource & Training (SMART) Centre, established under investPenang in May this year, will collaborate with the Penang Science Council to formulate SMI (small and medium industries) strategies in providing shared services and business development services to local companies and entrepreneurs. In the pipeline is the establishment of the SME Village aimed at developing clusters of supply chain to meet industrial needs, particularly to support the promoted industries such as avionics / aerospace, light emitting diodes (LED), semiconductor and medical devices.
The SME Village will be developed based on a cluster development concept wherein SMEs will be housed within the same premises, where shared facilities could be provided to the SMEs to lower cost of doing business for the SMEs, but yet at the same time enhance their resources and visibility, thus putting them at par with international / global suppliers.
In addition to the existing industry clusters, the SMART Centre will also support the growth and development of 3 major niche clusters comprising solid state lighting (SSL), precision electronics encompassing measurement equipment and radio frequency as well as medical devices.
Seminars and workshops will also be organised under the SMART Centre, targeting at enhancing the knowledge base of local SMEs. Topics for the seminars and workshops include venture capital and funding for SMEs. The SMART Centre will also work with MITI agencies to organise annual seminars for the local SMEs.
Human resource, which is a major asset of Penang is also in the list of priorities for investPenang.
In early 2009 during the economic slowdown, the State Government set up the Career Assistance & Training (CAT) centre under investPenang as an emergency response to mitigate the unemployment and retrenchment situation in the State. The CAT Centre received tremendous response from the retrenched workers and the job seekers to the extent that the CAT Centre still receives registrations in today's full employment situation.
Taking the popularity of the CAT Centre into consideration, the State Government has decided to review the role and function of the CAT Centre to be a dedicated entity to address the current issues of retaining and attracting talents. As such, efforts will be put in to increase the talent pool through job fairs targeting university students locally and overseas.
The CAT Centre will also be the point of contact to facilitate professionals and experts who are interested to work and make Penang their home. To regulate and ensure the success of this initiative, a high level task force will be formed with stakeholders to formulate policies and future directions for talent pool attraction and retention. These policies and directions will form the basis of the State's strategies.
Equally important to investPenang is investment inflows to the State. As of September this year, Penang ranks 3rd (after Selangor and Johor) in terms of investments approved. Between January and September this year, MIDA has approved a total of RM2.7 billion of investments for the State. This is already an increase of 25% from the RM2.2 billion investments approved for the whole of 2009. Of these investments, foreign direct investments account for 63%. Investments from the US head the list followed by Switzerland. The investments are mainly from the medical devices and electronics industries.
investPenang has been putting in great efforts in attracting new investments. This is as evidenced in the 2009 and 2010 results where more new investments/projects were approved compared with reinvestments . More than 60% of the approved investments are from new investments in 2009 and 2010 compared with less than 35% in 2008.
However Lim expressed concern whether the target of RM 4.2 billion of investments this year can be achieved for the final three months. The Penang state government hopes that both MIDA and investPenang can redouble efforts to nail down the many foreign and local investors who are awaiting for grants and incentives to be approved by MIDA. Without the close co-operation between MIDA and investPenang, the RM4.2 billion investment target may prove difficult. He would personally follow this up with the MITI Minister Datuk Mustapa Mohamad to maintain Penang's edge and positioning in the high-value added, high-tech and knowledge intensive industry by finalising these investments.
"Investments are closely related to the industrial outputs and for the fourth quarter of this year, the industrial production indexes for Malaysia have declined. This will impact investment decisions and thus we expect that investments for 2011 will increase only by 12%. The slower pace in investment inflows, however, will not deter us. On the other hand, we will look into measures to build on our industrial land bank in Penang," commented Chief Minister, Lim Guan Eng.
He further added that investPenang and Penang Development Corporation are working closely in planning the development of Batu Kawan as well as expansion of industrial land within the vicinity of Penang Science Park. Batu Kawan development will be a holistic development, integrating industrial, commercial, residential and recreational development. The expected completion of the 2nd bridge will further augment the Batu Kawan development, linking the Batu Kawan industrial park to the Penang International Airport.
Despite the forecasted slower growth in investment inflows in 2011, investPenang will further intensify efforts to promote investments into Penang through facilitating existing and potential investors, investment promotion missions, networking as well as hosting trade and investment delegations to Penang.

Speech by investPenang Chair and Penang Chief Minister Lim Guan Eng In PSDC, Bayan Baru During the investPenang Board Meeting On 16.12.2010
You are subscribed to email updates from Lim Guan Eng
To stop receiving these emails, you may unsubscribe now.
Email delivery powered by Google
Google Inc., 20 West Kinzie, Chicago IL USA 60610