sumber :-
---
PDC's New Srategy Of CAT Has Resulted In Turnaround Of Losses Into Profits For PDC Aquaculture Sdn Bhd
Posted: 05 Dec 2010 10:17 PM PST
PDC's New Srategy Of CAT(Competency, Accountability and Transparency) Management, Optimizing Asset Utilisation & Disposal Of Business Not Related To Core Business Has Resulted In Turnaround Of Losses Into Profits For PDC Aquaculture Sdn Bhd (PDCA) With Sale Price Of RM1.3 Million And A Rental Gain Of RM3.1 Million Over 15 Years.
PDC Aquaculture Sdn Bhd (PDCA) was a joint venture company between a PDC wholly-owned subsidiary company (Premier) and GST Seafood Suppliers Sdn Bhd (GST) with an equity of 60% and 40% respectively. The Company was established on 17 October 2005 with a paid-up capital of RM1.725 million. PDC's cost of investment in PDCA amounted to RM1.035 million based on its 60% equity. PDCA commenced operation on 1 February 2006 and its main activity was to undertake aquaculture activity on a 69-acre site in Batu Kawan owned by PDC. The land was rented to PDCA at a monthly rental amounting to RM3,307.79 for a period of three (3) years commencing on 1 January 2007.
PDCA has been incurring losses since its incorporation and based on its audited accounts for the year ended 31 December 2008, its accumulated losses amounted to RM761,333 with a net tangible asset of RM0.56 per share.
In view of the poor financial performance of the company and as aquaculture is not one of the core activities of PDC, the PDC Board, at its meeting No.1/2010 held on 9 February 2010 has decided to sell Premier's entire 60% equity in PDCA to GST at the price of RM1.3 million. The payment will be vide four (4) instalments of RM325,000 each for a period of three (3) years as follows:-
1st instalment – Upon signing of the Shares Sale Agreement
• 2nd instalment – End of first year
• 3rd instalment – End of second year
• 4th instalment – End of third year
The Shares Sale Agreement between Premier and GST was signed on 20 May 2010 and the first instalment of RM325,000 was paid by GST upon signing of the Agreement.
Upon the completion of the full payment from the sale of its entire 60% equity in PDCA, Premier's gain will amount to RM265,000 as compared to its cost of investment. In line with this sale, PDCA has also changed its name to GST Aquaculture (Batu Kawan) Sdn Bhd on 9 June 2010.
Apart from the sale of its equity, the PDC Board on 9 February 2010 has also decided to lease the site to GST for a lease period of 15 years and the rental rates are as follows:-
• First 3 years – Based on 50% of the valuation rate (i.e. RM330/acre/month) at M165/acre/month amounting to RM11,385.20 per month.
• 4 to 15 years – Based on the valuation rate of RM330/acre/month amounting to RM22,770.50 per month.
The Sale and Purchase Agreement of the above lease was signed between PDC and GST on 1 March 2010 and the lease period commenced on the same day.
As compared to the earlier monthly rental rate of RM3,307.79 charged by PDC to PDCA, the gain in rental to PDC for the 15-year period will amount to RM3.09 million. The breakdown is as follows :-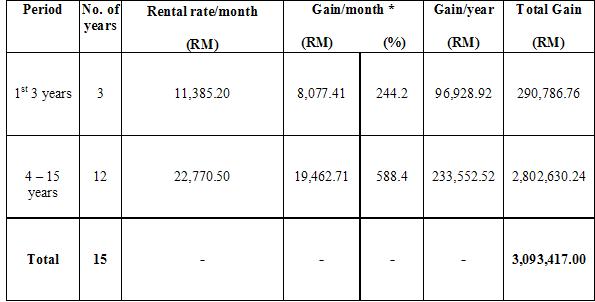 * As compared to old rate of RM3,307.79/month.
With the sale of PDCA, PDC has completely divested from the aquaculture business and is currently acting only as a landlord through the rental of the land to GST. Clearly this restructuring exercise has topped the previous government's practice of venturing into activities that was not its core business. By not continuing into business that PDC has no expertise or experience, this successful divestment and new corporate management has not only saved PDC money by not continuing to incur losses but also helped to gain profits.
You are subscribed to email updates from Lim Guan Eng
To stop receiving these emails, you may unsubscribe now.
Email delivery powered by Google
Google Inc., 20 West Kinzie, Chicago IL USA 60610